---
Tim Keenan – Operations Director/Engineer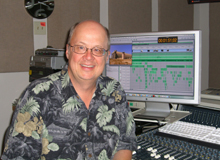 Tim has produced thousands of audio projects for a diversified base of clients including automotive, medical, financial, food service and advertising industries. He heads a team of experienced audio professionals and manages the two-studio facility in Cypress. Tim has helped clients gain national recognition by producing award winning audio on hundreds of shows.
Tim is a founding Board Member of the Media Alliance of Orange County. He is also currently on the Executive Board of the Cypress Chamber of Commerce.
Follow Tim on Twitter:
---
Linda Keenan – Production Coordinator
Linda is our Production Coordinator. She handles scheduling of sessions, quotes and invoicing. When you come in for your session you will be greeted by Linda's friendly smile and warm hospitality that will keep you coming back to Creative Media! Well, that and the skill of our award-winning engineers.
To schedule a session, contact Linda at: (714) 892-9469 or info@creativemediarecording.com
---
Dan Pavelin – Audio Engineer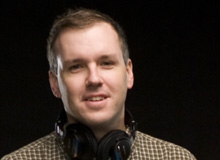 Dan Pavelin is a part time engineer at Creative Media and a full time college professor in the burgeoning School of Film & Television at Chapman University. Dan is a graduate of Cal State Long Beach (Film & Television) and worked at Creative Media over a seven-year period as a full time staff sound designer on hundreds of projects.
At Chapman University, he shares his vast experience with students to instill in them the importance of the power that audio has to galvanize and shape their film and video projects. Dan still returns to Creative Media occasionally to fill in for overflow work and vacation relief.
---
Allison Moffett – Audio Engineer
Allison has been a professional freelance recording engineer for over 15 years and a voice talent for over 10 years. She has worked extensively on media production—directing voice-overs, creating and placing sound effects, selecting music, and complete project mixing. In the past decade she has also recorded and mixed every style of music—classical, jazz, rock and R&B. Her voice work includes national commercials, video games, and animated series.
Allison makes everyone feel at home at CMR and brings the same meticulous CMR attention to detail to all her projects.
---
Scott Sieveke – Audio Engineer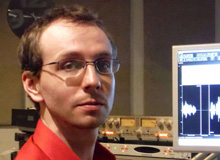 Scott Sieveke is comfortable on both sides of the glass as a freelance audio engineer and voice talent. He enjoys the process of working with great voice talent and capturing their performance – and he's a detail oriented engineer and post-production editor. Scott got his B.A. in Communications from Cal State Fullerton and trained in voiceover with professionals such as Bob Bergen, Kalmenson & Kalmenson and the Voice Acting Academy.
---
Sam – Studio Cat
1982-2001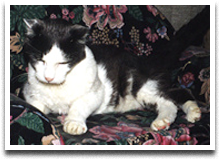 Sam the Studio Cat was a fixture here at Creative Media for over 17 years. Sam gained a bit of recognition in the early 90's when he was featured in a few series on Pets in the Workplace in CATS Magazine, The Orange County Register and on national TV on CNN. His voice was used on a few audio productions here at Creative Media. He survived a serious bout with cancer in mid-1999 that resulted in the removal of part of his jaw. Sam sprang back from that pretty well but cancer caught up with him again at the start of 2001. His remains are buried at Seabreeze Pet Cemetery in Huntington Beach. Over the past few years he went back and forth to work with Tim & Linda. Sam was a real "people person" and loved to be around clients. Sam has really been missed around Creative Media.