Tim Keenan – Operations Director/Engineer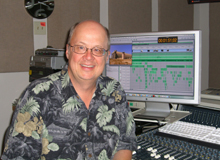 Over a lifetime career in AUDIO, Tim produced literally thousands of audio projects for a diversified base of clients including automotive, medical, e-learning, financial, food service and advertising industries. He headed a team of experienced audio professionals and managed the two-studio facility in Cypress. Over 4 decades, Tim helped clients gain national recognition by producing award winning audio on hundreds of shows.
Now semi-retired, Tim is still consulting on a project-by-project basis and providing freelance voiceover services and voiceover demo assistance.
Tim currently serves on the Executive Board of the Cypress Chamber of Commerce and in the past participated in numerous media industry boards and committees.
Follow Tim on Twitter:
---
Sam – Studio Cat
1982-2001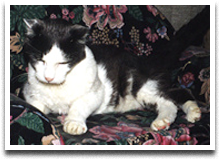 Sam the Studio Cat was a fixture here at Creative Media for over 17 years. Sam gained a bit of recognition in the early 90's when he was featured in a few series on Pets in the Workplace in CATS Magazine, The Orange County Register and on national TV on CNN. His voice was used on a few audio productions here at Creative Media. He survived a serious bout with cancer in mid-1999 that resulted in the removal of part of his jaw. Sam sprang back from that, but cancer caught up with him again at the start of 2001. His remains are buried at Seabreeze Pet Cemetery in Huntington Beach. Over his last years he traveled back and forth to work with Tim & Linda. Sam was a real "people person" and loved to be around clients. We still miss Sam around Creative Media all these years later.